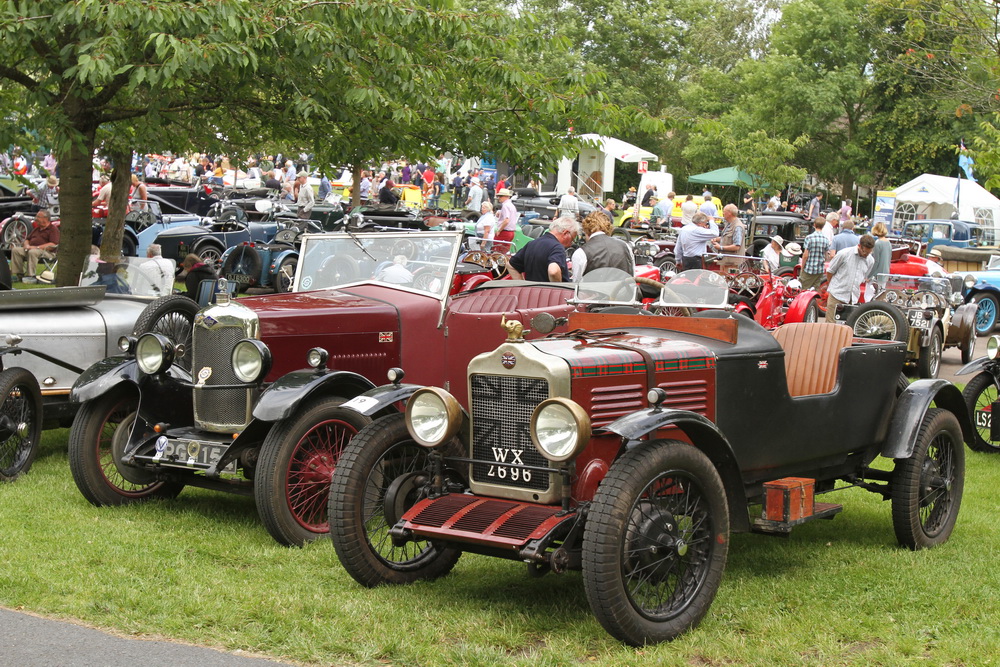 There are just 28 days to go to Pre-War Prescott 2017!  Planing will be an almost full-time job between now and the weekend.  The tickets are being printed this weekend and ticketing will commence next week.  But it is NOT too late to enter.  As of this morning, we have an impressive entry of 141 for Saturday and 54 for Sunday.   382 climbs have been allocated, we have 76 booked for the evening BBQ and 91 cream teas for Sunday!
And of course there will be plenty of catering options available throughout the day on Saturday at Prescott.  The Clubhouse will be serving meals all day, the bar will be open all day, and there will be snacks and cold drinks available in the Paddock.  Alternatively, you are more than welcome to bring along a picnic hamper!
Everyone is warmly invited to gather at the Royal Oak in Gretton, just a couple of miles from Prescott, on Friday evening.  The Royal Oak is superbly located, offering views along the Cotswold escarpment and across to the Malverns.  It has a huge car park and offers great food and fine local ales.  It is the perfect venue for us and a great way to kick off the weekend with old friends and new.
We have a record number of trade stands this year, and a record number of supporting clubs and registers.  We are expecting a unique gathering of cyclecars this year as well as GN's and early Morgans.  We also have a superb Edwardian entry lineup this year for the first time.
Another first for Pre-War Prescott this year will be the raffling of runs up the hill in four drop-dead gorgeous supercars, being brought along by Cotswold Motorsport and HR Owen.  Four climbs will be raffled through the day and the draw will take place immediately after the lunchtime auction.  All funds raised will be donated to the RAF Charitable Trust, our nominated charity.
Talking of runs up the hill, it might be worth mentioning that the unique formula of Pre-War Prescott which permits passengers, including children, to climb the hill is the perfect way to introduce newcomers to our sport, including those of the next generation, without whom, our passion for early cars will die.  With the pressures of modernity encroaching on our sport in every way, there has never been a time when this has been more important.  So please, if you have a spare seat, offer that seat to bystanders at the start line, and especially the dedicated Cadets of the Air Training Corps who support us every year.  Those under 18 will have had indemnity forms already signed by their parents or guardians before the day and will also have had their safety briefing, as witnessed by their blue wristbands.
Of course, we will be supported by the RAF Battle of Britain Memorial Flight once again.  This year they are bringing their historic 1942 Douglas C-47 Dakota ZA947.  The type was immortalized by the massed parachute jumps that were a vital tactical element of the D-Day landings at Normandy.  The RAF Charitable Trust, the Royal Air Force Association and the Air Training Corps will also be joining us on the day.
If you have not yet entered and are thinking of doing so, please get your entries in now without further delay.  The task of ticketing is not in any way insignificant and I will be starting it next week.  We can always accept late entries and you can even simply turn up on the day and pay at the gate, but it makes everything much easier if we know who is coming in advance – from parking to catering, etc.  And if you turn up on the day, the likelihood is that there will be no climb tickets left.
And so to Saturday evening.  Ciaran is all set to put on another sumptuous spread for us at the Clubhouse.  You should order your tickets in advance using the entry form, so that we can give Ciaran good numbers to work with, but I will also have a few spare tickets with me on Saturday if you change your mind at the last minute!  Mike Dowley of Sports & Vintage Motors has once again generously sponsored the weekend and will be entertaining us in the evening with his jazz band at the evening buffet BBQ at the Clubhouse.
In other news, the writing of the Souvenir Programme is well under way and another bumper issue is in store.  Every entrant will receive a free copy at the gate.  Additional copies will be on sale throughout the day.  Collector's items in the making!
Spectators.  Of course, spectators are invited!  At just £25 per car, which includes all occupants, this is surely tremendous value.  Spectators have full access to the Paddock and the hill path which offers some spectacular vantage points all the way to the finishing line.  You can pre-book or simply turn up on the day and pay at the gate.  You will be parked in the Orchard, directly adjacent to the start line. And you will have every opportunity to climb the hill in a passenger seat!
See you very soon!