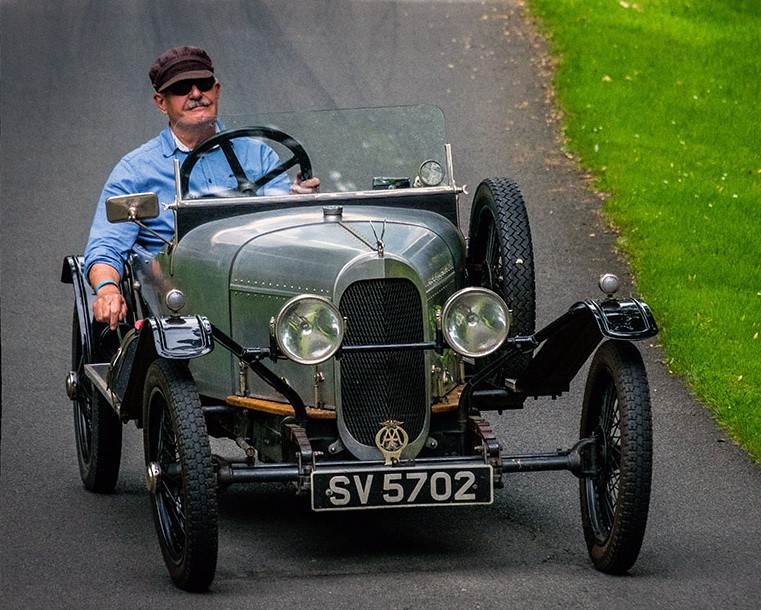 The big breaking news this week is that, for the first time, we will be hosting a gathering of cyclecars and GN's at Prescott on Saturday.  These rare and quirky machines will be lined up and displayed at the bottom end of the Paddock, in front of the trade stands.  They should make a spectacular sight.
Other clubs are working hard to gather entries, including the MG Car Club's MMM Register (56 entries last year, more expected this year), the Hotchkiss Society, the Riley Register, the Alvis clubs and the Wolseley Hornet Specials Club, as well as various Austin 7 clubs and, of course, your hosts, the Vintage Minor Register.
As of this morning, we have 106 entries for Saturday at Prescott and 43 entries for the Navigation Rally and parallel Scenic Tour on Sunday.  These numbers are slightly up from where we were at this point last year, so we are getting set for another tremendous weekend.  So far, we have a dozen Morris Minor and 32 MMM entries as well as a wide variety of entries including Alvis, Austin, Bentley, BSA, Ford, GN, Hotchkiss, Riley, Salmson, Singer, Sunbeam, Talbot, Vauxhall, White and Wolseley, together with plenty of other Morrises and MGs.
A total of 287 climbs have been allocated to date, out of a possible 475, so we have a little under 200 to go.  From our experience last year, I know that climbs will sell out before the day.  I do try to hold back a handful for the day, but I also know that, from this point forward, entries come in thick and fast, and that number of available climbs will dwindle rapidly from here on in.
We have a good variety of trade stands, with Motor Wheel Services joining us after a break last year due to a clash in events.  The Air Training Corps will be joining us once again, as will the Royal Air Force Association with their new display vehicle. We have four supercars booked as course cars, including a Ferrari 458 and will be raffling a spirited run up the hill in each of these cars, in aid of the RAF Charitable Trust.
Another highlight of the day will be flypasts by the RAF Battle of Britain Memorial Flight's 1942 Douglas C-47 Dakota ZA947.  In past years, we have enjoyed the awesome sight and sound of the Flight's Spitfire, Hurricane and Lancaster over Pre-War Prescott.  The Dakota is the only type that we have not seen yet.  I hear that it puts on an extremely impressive display as it is a large aircraft and come in much lower than the Lanc!