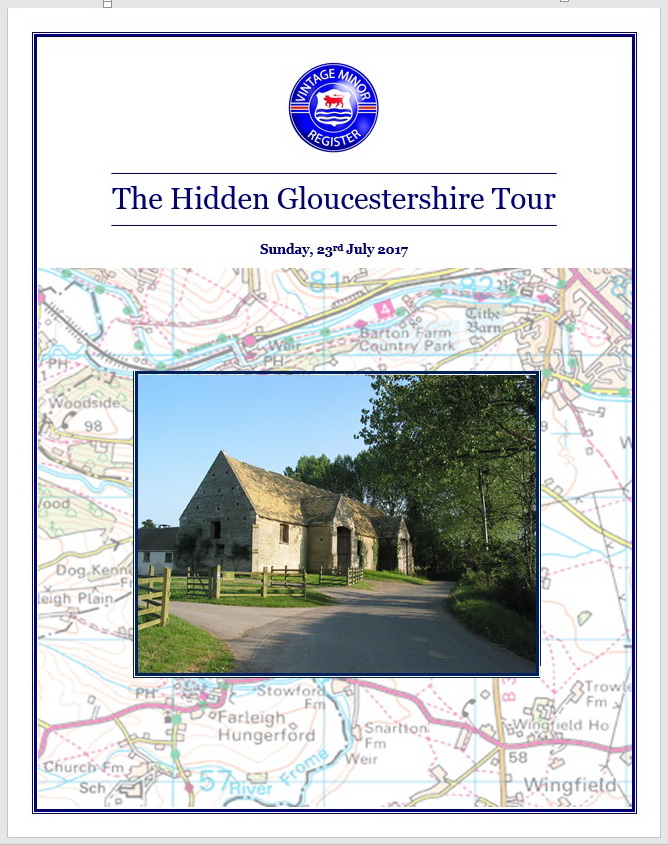 A quick word about Sunday.  Pre-War Prescott is just a part of the Vintage Minor the Register's Summer Rally weekend and on Sunday we hold a Navigation Rally and parallel Scenic Tour around the Gloucestershire countryside.  We traditionally start early on Sunday morning at Prescott where bacon butties and hot tea and coffee are available, just in case you didn't have time for breakfast before heading out!
Right now we have 58 entries across a superb variety of marques for the day – 20 taking part in the Navigation Rally and 38 booked on the Tour.    So if you would like to enter, please do so without delay as we can only accept a total of 60 entries in total
Navigation Rallyists will require OS maps 150 and 162 (any edition will do), while the Scenic Tourists will be provided with a copy of the Tour Handbook which will contain clear route directions and a number of informative notes about various stops and points of interest along the route.  The Navigation Rallyists will also be provided with clear route instructions – but sealed in an envelope.  If anyone becomes hopelessly lost along the way, they will be able to open their envelope and transition seamlessly and silently to the Scenic Tour!
This year, our run will take us west from Prescott into some hidden regions of the county as we wend our way down forgotten byways and through sleepy hamlets to our lunch stop which will be at the fascinating and welcoming Penny Farthing at Aston Crews, near Ross-on-Wye.
The afternoon route will loop us back to the incomparable Stanway House where cream teas and a range of other tasty cakes will await us.  Here we will be treated to TWO special private viewing of the launching of the incredible 300' gravity fountain while results are calculated, after which we will shower gold upon the victorious.
We have a number of annual awards that will be competed for.  The Roy Hogg Trophy is awarded to the best performance by a vintage Minor.  The Lewis & Nicholson Compass is always hotly contested for between two teams – the Morris Minors and the Austin Sevens, and then there is the Hereford Vintage Auctions Trophy (a wonderful art deco bronze statue) that is awarded to the winning team.  Other awards may be bestowed at the discretion of the powers that be.
The weekend will draw to a close on Sunday evening at the nearby Pheasant at Toddington where we are expected.  Good food and fine ales will be available and the landlady has once again generously arranged for the kitchen to remain open an extra hour for us.  What better way to say farewell to old friends and new.? Everyone is most welcome to join us for the evening.